If you've ever owned a wooden dinner table, you're probably familiar with these white heat marks that seemingly appear out of nowhere.
It might seem hopeless, but stress not!
We have a simple solution that will probably help you remove the heat stains from the table and can be done with tools you most people have around the house. This will often work with new or old stains as well.
How it occurs
If you've already connected the dots, you might have realized that stains are probably caused by some hot dishes that were placed there. These marks are normally caused when steam condenses from the hot dish and the moisture gets under the finish. The moisture becomes trapped and probably isn't going anywhere until you treat the wood.

How to remove white heat marks
Before we begin, make sure you have all the needed tools for a successful operation.
You're going to need:
Iron
Clean fabric  (100% cotton is ideal like a pillow case or napkin)
Spray bottle with water
Step 1: Prepare the Iron
You'll want the iron on medium heat with the steam function on, if it has it.
Step 2: Prepare the fabric
The fabric should be large enough so that you can fold it over on itself several times and still cover the spot. After folding, spray the cloth down with a little bit of water.
Step 3: Iron the stain through the fabric
Its strange, to remedy heat marks like this, you apply… more heat and moisture. Doesn't make any sense to me but you can't argue with the results.
Next, set an iron on the cloth, over the heat marks for about 15 seconds. Don't leave the iron in one place, keep it moving.
This is how what your wooden table should look like now: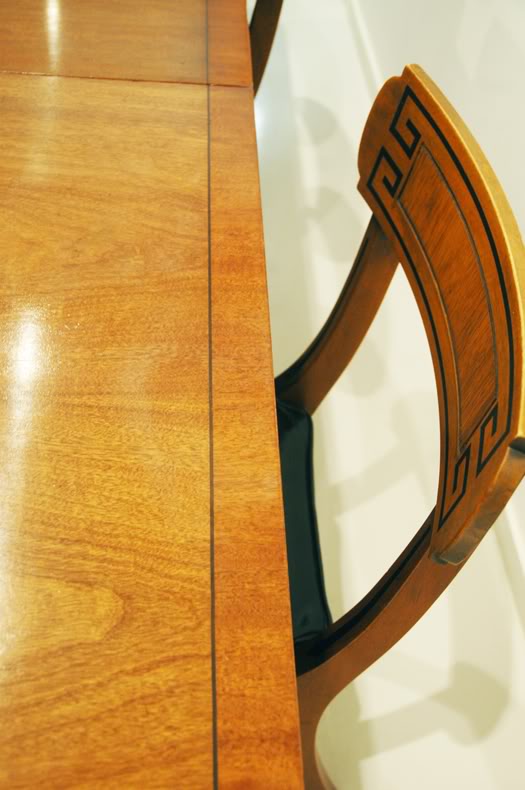 Final Tip
Many of us have come across a stain such as this but I had never heard of this cure so I hope that it helps someone out there.
I think a lot of people wrongly assume the items will need to be refinished so if in the future you see these heat marks on a thrift store table, don't pass on it. You might come across a great looking piece of furniture that you can fix in about 15 seconds!
For more tips like this one, visit our friends at Deluxe Maid who offer house cleaning in Indianapolis.