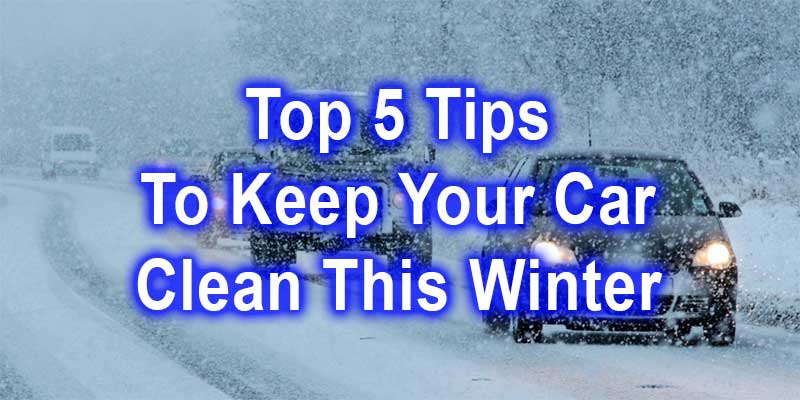 Wax
This is a great place to start because it adds an extra layer of defense between all the road crud and your paint. If you've prepared correctly, you'll have waxed your car before the bad weather hits and applied it while the weather is still warm. If not, it's not too late but wax should only be applied to clean paint and if you have a warm garage to do the work, it will apply much easier. There are countless brands to choose from but any carnuba you find at a local auto parts store will probably work fine.
A Quick Rinse
If weather is permitting, a lot of the ice melting compounds the city uses on the roads can be rinsed off with just water. We wouldn't recommend doing this in temperatures below freezing and a pressure washer is ideal but even a normal garden hose is going to help quite a bit. The longer the grime sits on your paint, the more opportunity is has to do damage.
Frequent Washing
Nothing a better than washing your car often throughout the winter and we recommend every 10 days. If you're going to do this yourself, it's best to wait for days when the temperature is at least 40 degrees and plenty of sunlight to help it dry. Always use fresh water and adding some baking soda to the wash water will help dissolved dried salt on the vehicle's. It's also important to note that dish detergent shouldn't be used in place of car wash soap.
It's also crucial to dry thoroughly and remember to leave the doors open for some time so trapped water doesn't pool and freeze later.
Rubber Floor Mats
You can pick a set of these up online for around $40 and they'll spare your fabric mats from being destroyed by all that grime that gets stuck to your shoes. We recommend buying a brand that has deep rubber troughs so that all the larger debris falls down in to the gaps in the mat and holds it. When you're giving your a car a quick rinse, just pull the mats out and rinse them too. There isn't an easier or more effective way to help keep your interior nice this winter.
Parking
It might seem like parking in a heated garage is the best course of action to protect your car because it's sheltered from the elements. However, because the slushy, salty buildup will melt, the moisture actually reacts quicker with the salt and speeds up the corrosion. So there are pros and cons to parking inside or outside. If able, rinsing/washing the car before parking it inside is always the best course of action.
Don't forget that all that grime is going to be tracked in to your home and can do the same damage to your floors & carpets that it can do to your car. If you ever need any help around the house we're eager to offer our exceptional cleaning service Broomfield. We offer residential cleaning services all over the Northwest Denver Metro area including Wheatridge and Brighton!
On the other side of Denver? You don't have anything to worry about because our friend over at Alpine Maids has you covered. They're offering the best maid service Denver has every seen and we are sure you'll be happy you chose them for your cleaning!
If you could use more car cleaning tips, check out the guys at Drive Proactive. They've got tons of useful information on their site and are the top driving school Calgary has to offer!