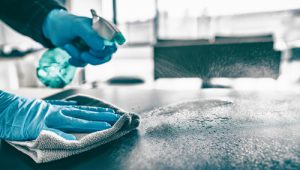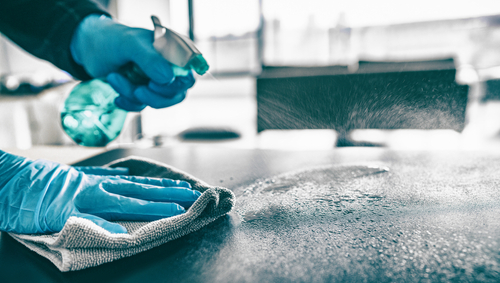 Keeping your home in mint condition requires a number of procedures. Two of the most important ones are cleaning and disinfection. Now that the coronavirus can easily find its way into your home, knowing the intricacies of both processes is a must.
If you're not sure just why cleaning and disinfecting are not the same, no worries. Your go-to Thornton cleaning services are here to clear up any confusion. All you need to know to get a pristine and healthy house is right here. Stay tuned.
Is cleaning the same as disinfecting?
Contrary to popular belief, cleaning and disinfecting are not the same. They are performed using different substances, through different methods, and achieve different goals.
Cleaning
On the one hand, cleaning has to do with removing dirt and germs from a surface, as well as organizing a space. However, you cannot kill any germs when you clean. All you can do is reduce their number on a particular surface. Still, this does reduce the risk of infection, which is invaluable at the moment.
Disinfecting
On the other hand, the sole purpose of disinfection is to eliminate viruses and other pathogens. It won't necessarily help make your home shinier, but it will turn it into a much healthier place.
What is the difference between cleaning and disinfecting?
Again, what sets cleaning apart from disinfecting is that it can't kill viral particles. It simply lowers their presence in a certain area. To be absolutely sure that there are no infectious microbes in your home, you just can't do without disinfection.
It's also important to note that cleaning incorporates a large number of procedures. Some of the most common ones are:
Dusting
Scrubbing
Sweeping
Vacuuming
Mopping
You clean whenever you want to deal with stains, grease, or debris. In other words, cleaning enables you to tackle all the impurities visible to the naked eye.
Conversely, disinfection is the answer to the invisible threat – vicious microorganisms all around the house. To disinfect properly, you can use bleach solutions, alcohol solutions with 70% alcohol, or an EPA-approved disinfectant. Whatever you opt for, don't forget to wear disposable gloves while disinfecting and make sure to wash your hands afterward.
Why should you clean before disinfecting?
Whenever you're planning to disinfect a surface, you should always clean it beforehand. The reason for this is simple: germs can hide beneath dirt and debris, which makes it difficult for disinfectants to detect them. In addition, dirt and organic material make disinfectants less potent. This means that germs can still remain on a surface even after you're done disinfecting.
So, disinfection is at its best when it's a two-step process. For instance, if you're looking to protect your kitchen from COVID-19, first clean the countertops and other surfaces, and then move on to disinfecting or sanitizing.
Book quality Thornton cleaning services and your home will get a fresh look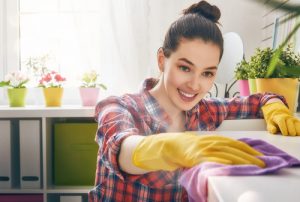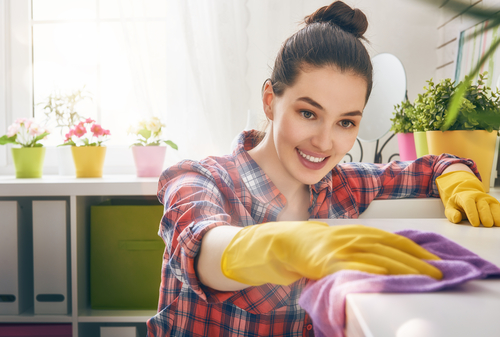 Wouldn't you like to make housework a thing of the past? With Blue Spruce Maids, you can do just that with just a few clicks! Just hire our dependable cleaning experts who will make your home sparkle like never before.
We are here to answer all your cleaning calls. Whether you need regular-visit or initial-visit clean-ups, Blue Spruce Maids are available at all times. On top of that, look no further for a thorough move-in/move-out cleaning. We guarantee absolute satisfaction with all our services.
How many times have chores prevented you from going out and having a blast? With us by your side, that will no longer be the case. Take your family out for some thrills at Elitch Gardens Theme Park and leave the cleaning to the best in the biz.
Book Blue Spruce Maids now!