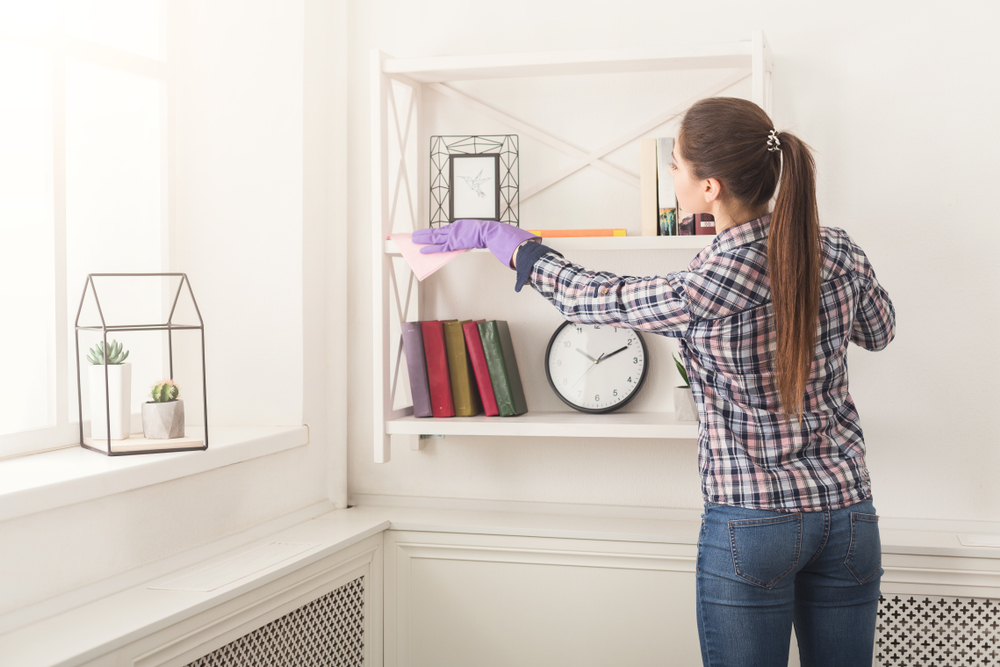 You probably have shelves and drawers in every room of your home. They hold your bathroom towels and let you decorate your living room with all sorts of eye-catching objects. But like other furniture, they get dirty pretty quickly. You need to clean them regularly to maintain great looks, and seasoned specialists in cleaning services in Northglenn will show you how.
In this article, we'll give you a step-by-step guide on removing dust and dirt from shelves and drawers. Read on!
How do you clean dirty shelves?
Cleaning your dirty shelves seems simple, but you can't be reckless. Approach this chore like any other job, like getting rid of stains on glass, handling the mess behind your furniture, and making your kitchen cabinets look as good as new. Here's what you need to do:
Declutter
Get rid of everything on your shelves. There's no need to waste time sorting things out. Put the items in a box or on your couch until you clean the surfaces.
Clean your bookcase
Pull your bookcase away from your wall and wipe it using a cloth. Dust with another cloth or mop and use soap to remove any smudges and grime.
Treat scratches
Identify any scratches on the shelves and treat them with your microfiber cloth dipped in water. Afterward, use a commercial cleaner to eliminate marks or scuffs. You can also fix scratches on your wood shelves with scratch repair products or similarly colored crayons.
Examine the bottom
If your shelves are made of hardwood, they should come with felt pads on the underside so you can move them easier without scratching the floor or wall. Get rid of any dust or scratches.
Vacuum the surrounding area
Before putting shelves back in their regular spot, vacuum the surrounding floor. You should also dust the baseboard and wall for a thorough job.
How do you clean drawers?
Drawers experience a lot of wear and tear due to constant opening and closing. They can also accumulate a pile of dirt. Here's how to return them to their former glory, depending on the type:
Varnished wooden drawers: Dust with your microfiber cloth and restore shine by scrubbing the surface with soapy water and some vinegar. Finally, wipe the drawers with a cloth.
Waxed drawers: To clean your waxed drawers, soak a cloth in turpentine or ammonia. Another option is a solution that includes equal amounts of water, white vinegar, and a commercial glass cleaner. Dip a sponge into the mixture, scrub the surfaces, and wipe them with a cloth.
Painted drawers: Dampen a sponge with soapy water. Then, wipe your painted wooden drawers with a cloth. For stubborn stains, mix ammonia and soapy water. Just make sure to wring out the sponge thoroughly.
Lacquered wooden drawers: To tackle dirty lacquered drawers, dip a silk or chamois cloth into white vinegar. Apply the cleaner and wipe with a dry cloth. If you're dealing with hard-to-remove stains, mix turpentine and linseed oil in equal parts and add flour.
Tired of spending hours cleaning your house? Book premier cleaning services in Northglenn and put your feet up!
Northglenn and the surrounding areas are famous for amazing sights, such as the breathtaking Standley Lake. Don't let pesky cleaning get in the way of visiting them when Blue Spruce Maids are just a phone call away.
Whether you need your shelves cleaned or your bathroom scrubbed, we are your go-to team. Our vast experience and detail-oriented approach will come through for you. Reach out to us for a spotless job!