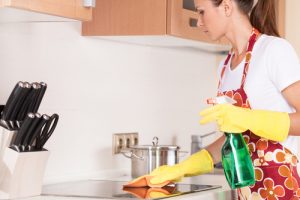 The kitchen is generally one of the germiest places in your average household. That's why any reputable home cleaning in Thornton will recommend disinfecting and sanitizing it regularly. Nowadays, this takes on even greater importance due to the coronavirus pandemic. The virus can spread effortlessly from your kitchen and put your health at risk.
If you wish to ensure that your home remains a safe, germ-free environment, find out how you can properly sanitize the kitchen from COVID-19. Coming up are all the preventive measures you should take.
How to sanitize your kitchen during COVID-19?
Here's what a kitchen sanitization process should look like:
Put on protective gloves
Wear disposable gloves from the beginning until the end of sanitization. By doing so, you will avoid coronavirus particles landing on your skin.
Clean the kitchen
Before you use your disinfectant, you need to clean the kitchen thoroughly. That's because any dirt and debris on the surfaces you want to disinfect make it almost impossible for the disinfectant to reach the germs.
As usual, clean with warm water and soap or detergent. Unless there are stubborn stains on the surfaces, you don't need to soak them for very long. After applying the cleaning mixture, rinse with warm water, and dry with paper towels or a cloth.
Unfortunately, the work is not over once you clean the kitchen. Since cleaning and disinfecting don't produce the same results, a large number of germs will still remain. For this reason, cleaning is not enough.
Disinfect
This brings us to the core procedure – disinfection. In general, there are three disinfectants that are most commonly employed in the kitchen: alcohol, bleach, and hydrogen peroxide. Here's how you can disinfect each one:
Alcohol: The most effective solutions contain 70% alcohol. Mixtures with higher concentrations evaporate too quickly, whereas those with lower concentrations are simply not powerful enough. To apply alcohol, put it in a plastic or glass spray bottle and spray it on a surface. Given that it evaporates rapidly, there's no need to wash or wipe down the surface.
Bleach: Mix 5 tablespoons of bleach with 1 gallon of water. Pour some of it into a spray bottle, apply it to an area, and let it air dry. If you're spraying it on stainless steel, rinse the surface and wipe it down to prevent corrosion. While you're disinfecting, make sure that the kitchen is properly ventilated since the fumes are toxic if inhaled.
Hydrogen peroxide: Pour or spray hydrogen peroxide on a surface and let it rest for at least a minute before drying it. If you're using a 3% solution, be extra careful with materials such as granite or marble because hydrogen peroxide can damage the finish. Additionally, be sure to spot-test the disinfectant on a small area of a colored surface since it can lead to discoloration.
Once you're done disinfecting, don't forget to dispose of your gloves and wash your hands.
Where can I find the top home cleaning in Thornton? Just book Blue Spruce Maids!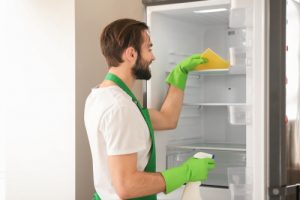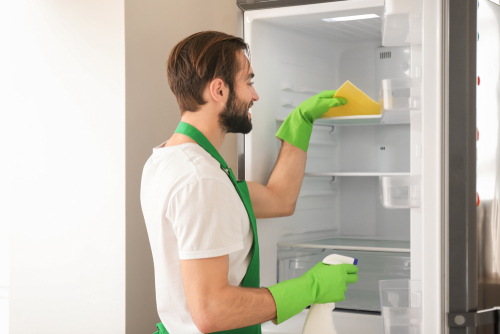 Your house just can't do without some top-to-bottom cleaning every now and then. But wouldn't you rather skip housework and do something that doesn't drain your energy? That's why Blue Spruce Maids are here for you. Just give us a call, and our trustworthy cleaners will be on their way to take the cleaning out of your hands.
All our maids are seasoned experts who leave nothing to chance. They go through a stringent vetting process and provide services according to the highest standard. So, if you need regular-visit or initial-visit cleaning, just hire our cleaners and leave the rest to them.
You can finally give yourself some time to unwind. With Blue Spruce Maids handling the dirty work, a walk-in Confluence Park sounds too good to miss.
Blue Spruce Maids always deliver. Book now!