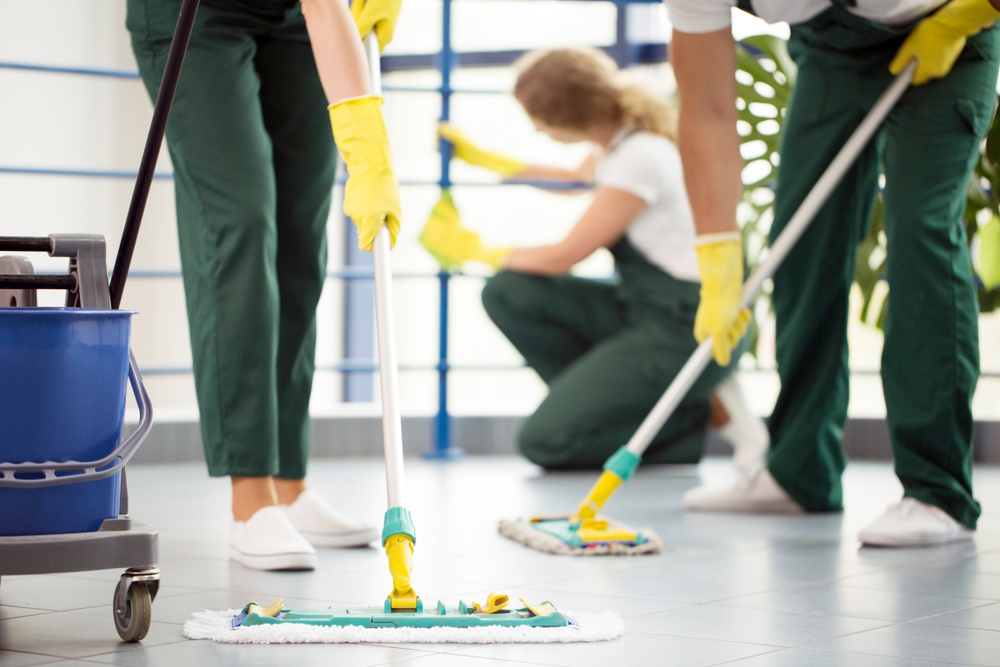 Cleaning is probably the least exciting part of moving out. However, it must be performed, and doing the work on your own may not be a great idea. There are many other things on your mind, so you're less likely to clean your home properly. No worries – you can always reach out to a trusted Westminster move-out cleaning service.
In the following article, we'll discuss (and list) the top reasons you should book professional maids when moving out. Read on!
Why should I hire professionals for my move-out cleaning?
Cleaning your home thoroughly before moving out is especially important if you lived as a tenant. For instance, a common mistake people make is not dusting the place. This can put you in a world of trouble and make the landlord withhold your deposit.
When you're moving out of a rental property, it's essential to clean your home thoroughly to avoid any potential issues with your landlord and ensure the return of your security deposit. Dusting, among other cleaning tasks, plays a vital role in leaving the property in satisfactory condition.
Many people underestimate the significance of dusting, but it can make a noticeable difference in the overall cleanliness of a space. Dust tends to accumulate on surfaces, furniture, and even in hard-to-reach corners over time. Neglecting to remove the dust can not only create an unappealing visual impression but can also lead to potential respiratory irritants.
Landlords typically expect tenants to leave the property in the same condition as when they moved in, apart from normal wear and tear. If you fail to thoroughly clean and dust the home, it could give the impression of neglect or lack of care, potentially resulting in the landlord withholding part or all of your security deposit to cover cleaning expenses.
By taking the time to dust every surface, including furniture, shelves, baseboards, and light fixtures, you demonstrate that you have maintained the property and fulfilled your responsibilities as a tenant. This attention to detail shows respect for the property and helps to ensure a smooth transition when it comes to settling any financial obligations with your landlord.
To avoid any disputes and maximize the chances of receiving your full deposit, it's advisable to create a checklist of cleaning tasks, including dusting, and systematically go through each item to ensure nothing is overlooked. If you find that the task is too time-consuming or challenging, hiring a professional cleaning service can provide you with the expertise and efficiency needed to complete the job to the required standards.
By being diligent in your cleaning efforts, particularly when it comes to dusting, you not only maintain a good relationship with your landlord but also increase the likelihood of receiving your security deposit back in its entirety. Leaving the property in a clean and dust-free condition showcases your responsibility as a tenant and ensures a smooth transition for both parties involved.
The best way to avoid the scenario is to hire a specialist. Here's why this is such a beneficial decision:
1. No need to get your hands dirty
Cleaning a house when moving out isn't pleasant. Dust, dirt, and grease may have accumulated all over the place, including behind your furniture and other hard-to-reach areas.
It gets even worse if you've neglected your bathroom. Hair and soap scum might have accumulated around drains and shower walls, which require special attention.
However, you don't have to be stuck with cleaning up the mess. To make sure your cleaning doesn't drain all your energy, get in touch with reliable maids. The tasks they can perform on your behalf include:
Scrubbing tub or shower
Cleaning the toilet
Wiping down cabinets and baseboards
Sweeping and vacuuming floors
2. Less stress
Apart from being dirty, moving out is also stressful. You need to pack up your life, haul your possessions, and stay on top of everyday duties. Add cleaning to the equation, and you can easily get overwhelmed.
That's where a dependable company comes into play. Booking a qualified team frees up time, allowing you to focus on other, more important aspects of the move. Best of all, you won't have to worry about whether or not your home will be pristine once you get out.
Professional cleaning services can be a lifesaver when it comes to moving out. With their expertise and efficient techniques, they can tackle the toughest cleaning tasks and ensure that your home looks sparkling clean before you hand over the keys.
When you hire a reliable cleaning company, you can trust that they will bring all the necessary supplies and equipment to get the job done right. From scrubbing floors to wiping down surfaces, they will leave no corner untouched, saving you the hassle of dealing with the daunting cleaning process on your own.
Moreover, professional cleaners have the knowledge and experience to tackle specific areas that require extra attention, such as stubborn stains or built-up grime. They can employ specialized cleaning techniques and products to restore the cleanliness and freshness of your home, giving you peace of mind knowing that you're leaving behind a spotless space.
By delegating the cleaning responsibilities to experts, you can focus your time and energy on other important aspects of the move, such as organizing your belongings, coordinating logistics, or saying farewell to your old neighborhood. This can greatly alleviate the stress associated with moving, allowing you to transition smoothly into your new chapter without feeling overwhelmed.
So, whether you're a busy professional, a parent juggling multiple responsibilities, or simply someone who prefers to leave the cleaning to the pros, hiring a dependable cleaning company can be a game-changer when it comes to moving out. Say goodbye to the worry of a dirty or incomplete cleaning job, and welcome the convenience and peace of mind that comes with knowing your former home will be left in pristine condition.
3. Great first impression
If you want to sell your house, you can hire professional maids to ensure the place is ready for new tenants. When potential buyers enter the door, they'll be stunned by your immaculate living space.
You can clean the home yourself, but doing it correctly is hard if you don't know where to start. Therefore, leave the job to a licensed company to take your buyers' breath away.
When it comes to selling your house, first impressions matter. A clean and well-maintained home can significantly increase its appeal to potential buyers. By hiring professional maids, you can ensure that your property is in pristine condition, ready to impress anyone who steps through the door.
While you may consider cleaning the house yourself, it can be a time-consuming and challenging task, especially if you're unsure of where to start or how to achieve that immaculate look. Professional cleaning companies have the expertise and knowledge to transform your home into a showcase-worthy space.
Licensed cleaning companies employ trained professionals who understand the intricacies of cleaning various surfaces and materials. They have access to high-quality cleaning products and tools that can effectively remove stubborn stains, eliminate odors, and restore the overall cleanliness of your home.
When potential buyers walk into a meticulously cleaned house, they can envision themselves living there. A spotless living space creates an inviting atmosphere, enhances the visual appeal of the property, and leaves a lasting positive impression on potential buyers. A professional cleaning service can help you achieve this wow factor, giving your home a competitive edge in the real estate market.
By entrusting the cleaning responsibilities to professionals, you can focus on other crucial aspects of the selling process, such as staging, marketing, and negotiating with potential buyers. It allows you to alleviate the stress and time-consuming task of deep cleaning, ensuring that your property is presented in the best possible light. Unlock your brand's potential with expert marketing services. From strategic campaigns to targeted ads, we'll help you reach new heights and captivate your audience.
So, if you're planning to sell your house, don't underestimate the impact of a professionally cleaned living space. Hiring a licensed cleaning company will not only save you time and effort but also increase the chances of attracting interested buyers and achieving a successful sale. Let the experts handle the cleaning, and watch as your home dazzles potential buyers, leaving them impressed and ready to make an offer.
4. Customized services
Many homeowners have special demands. Some simply want their kitchen cleaned. Others need their walls and floors scrubbed in-depth.
Regardless of your preferences, experts will meet all your demands. They provide customizable services, enabling you to break down the process into various options. This gives you flexibility and can save you a lot of money, which is crucial when moving out.
Every homeowner has unique needs and preferences when it comes to cleaning their property, and professional cleaning companies understand the importance of catering to those specific demands. Whether you have a particular focus area or require a comprehensive deep clean, experts in the field can customize their services to meet your requirements.
If your main concern is the kitchen, a professional cleaning team can focus their efforts on this area, ensuring that every surface is thoroughly sanitized, appliances are spotless, and cabinets are organized. They have the expertise to tackle grease, grime, and stubborn stains, leaving your kitchen looking fresh and inviting.
For those who want a more comprehensive cleaning, experts can address every nook and cranny of your home. From scrubbing walls to deep cleaning carpets, they can provide a top-to-bottom service that transforms your living space into a clean and comfortable environment.
Customizable cleaning services give you the flexibility to choose the specific areas or tasks that require attention, allowing you to tailor the service to your needs and budget. This approach not only ensures that you receive the cleaning you desire but also helps you save money by avoiding unnecessary services or focusing on specific areas that require the most attention.
When you're moving out, managing expenses is crucial, and customizable cleaning services provide a cost-effective solution. You can prioritize the tasks that are most important to you, ensuring that your budget is allocated wisely and that you receive the specific cleaning you need to leave your home in excellent condition.
By hiring professionals who offer customizable cleaning options, you have the freedom to define the scope of the cleaning process and make choices based on your unique preferences. This level of flexibility ensures that your demands are met, and you can move out of your home with the confidence that every aspect of the cleaning has been taken care of according to your specifications.
Moving out? Let us handle the cleanup. Our move out cleaning services guarantee a spotless, stress-free farewell to your old place.
Can't handle your cleaning on your own? The first-rate Westminster move-out cleaning service can save the day!
There are many cleaning companies in Westminster, but you shouldn't hire just any team. You need licensed professionals with years of experience under their belt, and you can find them at Blue Spruce Maids.
Our specialists leave no stone unturned, regardless of the size of your place. Give us a call, and they'll address each and every corner of the house with advanced techniques. While they take care of the work, tickle your tastebuds at the local LaMar's Donuts. You'll return to an impeccable home! Book now!