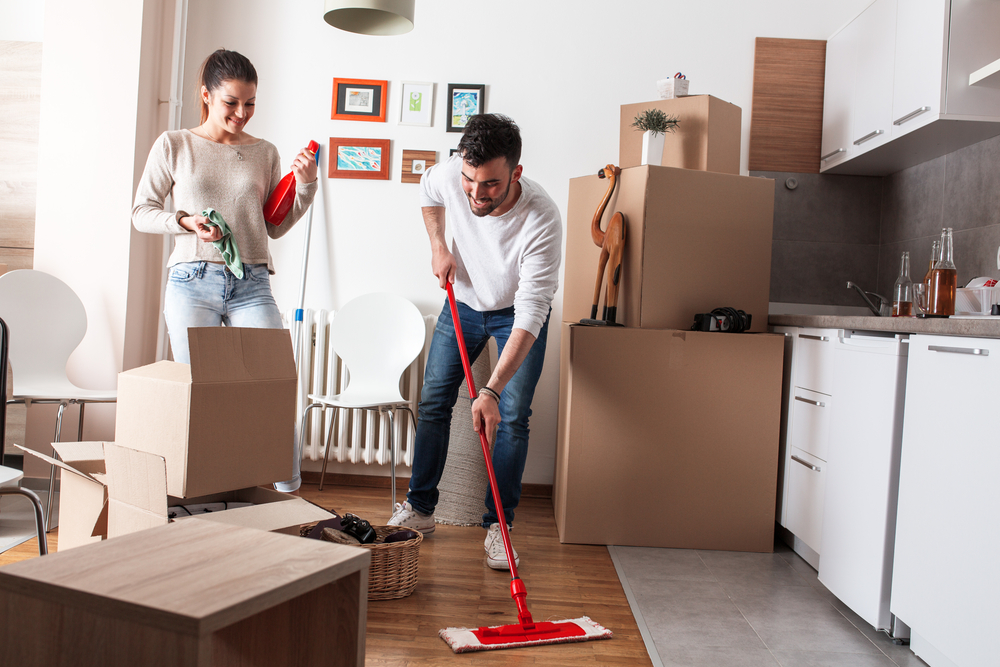 Moving to a new house is incredibly exciting. You can't wait to start a new chapter in your life, but one thing gets in the way – your move out cleaning. You need to ensure your old home is in perfect condition before leaving it, and we're about to help you breeze through the work!
In the following article, we'll list the most common mistakes that can happen if you don't hire a move out cleaning service in Westminster. Read on!
What should I avoid doing when performing a move out clean?
The most reliable way to get your move out cleaning right is to reach out to a professional. But if you want to take care of the job on your own, avoid the following six mistakes to speed up the work:
1. Forgetting about cabinets and cupboards
You might be in a rush, so you forget to tackle every crucial surface. Cabinets and cupboards are two of the most neglected areas.
Empty each element in your kitchen, laundry room, bathroom, and closet. Then, remove any gunk and crumbs before wiping them down.
2. Ignoring window frames
Windows don't just consist of glass. There are also the frames that require attention. Ignoring them can make the entire room look unsightly.
There's no reason to avoid cleaning window frames because the process is simple. You need only apply some dishwasher or other non-invasive liquids and scrub the surfaces with a sponge. Be sure to change the water as you clean to prevent leaving dirty streaks.
3. Not cleaning the area under your carpet
You can't take carpets with you if you're moving out of a rented apartment. You need to clean them and the area underneath.
If the carpets cover a parquet, eliminate any sticky residue. Afterward, mop it with an appropriate product and water.
4. Neglecting wooden surfaces
While window frames are relatively easy to clean, other wooden areas are more challenging. Still, this doesn't mean you should leave them unattended.
Be it your window sills or doors, you can scour them with soapy water. Start from the top and make your way to the bottom to sweep any dirt into the ground.
Additionally, be generous with your cleaning solution to prevent streaks. Potent agents might be necessary for stubborn stains.
5. Cleaning ceilings and walls improperly
Your ceilings and walls shouldn't be too dirty, but you need to be thorough. There could be some stains whose removal depends on your material. For instance, some products don't work the same on vinyl coatings as they do on latex paint.
Regardless of your solution, you shouldn't use an improper technique either. Instead, clean heavily stained surfaces before moving on to the rest of the surface. Start from one corner and gradually progress to other parts of the ceiling and walls.
Lastly, dab your walls carefully after washing them to prevent any liquid from penetrating the wallpaper.
6. Damaging the blinds
Cleaning blinds seems straightforward, but many people do it wrong. They use acidic, alkaline, or other aggressive agents that damage the finish. Don't make the same mistake.
You're much better off removing the blinds and placing them in the bathtub. Fill it with warm water, dish soap, and a cup of baking soda. Let the units soak for approximately an hour before rinsing. Finally, finish the process by wiping them dry.
No time to clean? The first-rate move out cleaning service in Westminster comes to the rescue!
You might be eager to perform an in-depth move out service, but there's no time. You need to make some arrangements for your new house or go to a concert at 1stBank Center. Either way, no worries – we can take care of the job, so you don't have to!
Hire our dependable experts, and you'll be amazed by the results. They'll ensure the place is in tip-top shape, allowing you to enjoy your new abode in peace. Schedule our premium maids now!