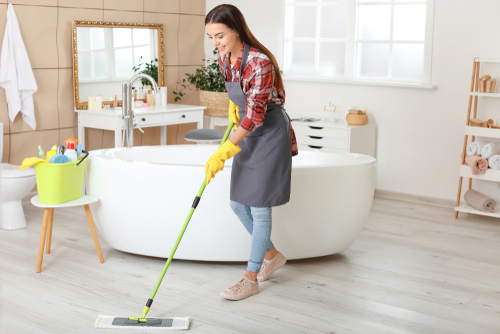 There are many advantages to having a ceramic tile floor. In addition to its fantastic versatility and stunning beauty, the material is generally low-maintenance. It's made of natural substances fired and molded at high temperatures. This process makes it resilient to dirt, but ceramic tile isn't impervious to stains and requires proper attention.
If you're not sure how to restore shine to your ceramic tile, no worries. The leading house cleaning services in Arvada are here to guide you every step of the way. Read on for some simple tips and tricks!
How do you clean dirty ceramic?
Similar to dealing with stubborn coffee stains, you may be tempted to use various cleaning supplies at once to clean your ceramic. However, this is ill-advised since the process can release dangerous substances that can compromise your health. A combination of baking soda and vinegar won't do the trick either, because the mixture is generally ineffective.
Instead, here's what you should do:
Remove all rugs, furniture, and shoes that could get in the way of cleaning.
Get rid of loose dirt, debris, and dust with a broom or vacuum cleaner.
Use a plastic knife or a credit card to scrape sticky residue from the tile.
Pour hot water in a bucket, add ½ cup vinegar, and ½ tablespoon dish soap. Be careful not to use too much soap since the residue can make the floor look dull.
Before mopping, rinse the mophead with hot water to tackle any debris.
Mop the floor with soapy water.
Mop once again with just hot water.
Let the surface air-dry or cover it with a clean cloth or towel to remove any remaining dirt and avoid water spots.
What is the best way to clean a ceramic tile floor?
While the vinegar and baking soda duo doesn't work, you can use the substances separately. Since we've already covered vinegar, let's see how baking soda can help you. It's especially useful against stubborn stains, and this is how to apply it:
Mix water and baking soda until you form a paste. Make sure it's thick enough. Otherwise, it won't be as potent as necessary.
Apply the combination onto your ceramic tile. Let it rest for a couple of minutes to absorb any stains.
Use a microfiber cloth to create scrubbing circles on the floor, moving the cleaning agent around gently.
Thoroughly rinse to prevent baking soda from leaving a film.
Buff the area with a dry towel.
If you have marble or porcelain tiles, most professionals' cleaning tips will be to be careful and use a non-abrasive product to take care of them.
While you're there, you should also tackle the grout:
Combine powdered oxygen bleach and water according to the manufacturer's instructions.
Apply the solution and let it take effect for at least half an hour.
Once the combination has had plenty of time to rest, use a toothbrush or nylon brush to scrub grout lines. Deal with one area at a time and use a towel to absorb dirty water along the way.
Rinse and dry with a cloth.
Premier house cleaning services in Arvada are always here for you
Many housework jobs can be quite toilsome and time-consuming. Instead of mopping and dusting, you'd much rather spend your day at Confluence Park and have a lovely picnic. You might be thinking your chores are in the way, but you're in luck. Blue Spruce Maids are here to take cleaning away from your hands!
Reach out to our highly trained team, and they'll take care of the housework so that you don't have to get your hands dirty. They have years of experience under their belt, so have no doubt their expertise will come through. Schedule our services now!