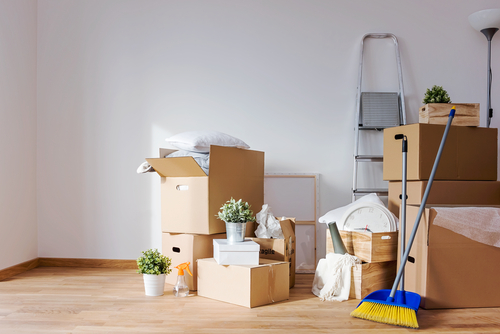 Moving to a new home can be one of the most exciting stages of your life. It marks a fresh start in a different environment with different neighbors and a brand-new view out of the window. However, it can also be a difficult endeavor, if for nothing else but having to make sure your home isn't a mess before moving out.
If you don't know where to start, no worries. The leading move-out cleaning specialists in Westminster are here to guide you every step of the way. We'll show you how to clean certain areas of your home so that you can finally focus on welcoming the new chapter in your life. Keep reading for some great tips!
How much do you have to clean when you move out?
Cleaning when moving out can be quite laborious, especially if you're cleaning during the summer when temperatures skyrocket. You often have to deal with stubborn oven grease or deep clean your washing machine.
Fortunately, the reality is usually different. Deep cleaning is generally required if you've neglected the place for months. In most cases, basic tasks, such as scrubbing floors, wiping down walls, and dusting the place, should do the trick.
However, you may want to put in a bit more effort if you're moving out of an apartment that doesn't belong to you. In this case, you'll probably need to be extra thorough to ensure you get your deposit back.
What do you need to clean when you move out?
Here are specific areas and surfaces you should focus on when moving out of your home or rented property:
Floors
Give all your floors a quick run with your vacuum. This will help remove any dust build-up from the surfaces.
Dust other areas
Use an all-purpose cleaner and paper towels or a cleaning cloth to wipe down countertops, bookshelves, fireplaces, window panes, mantles, and any other hard surface.
Clean inside cabinets
Kitchen cabinets tend to collect food crumbs and other food residue. Therefore, don't forget to clean their interiors.
Wipe down your appliances
Over time, appliances get covered in markings and fingerprints. Wipe them down with an all-purpose spray or a combination of vinegar and water. Clean the oven and the fridge, and don't forget about the microwave.
Scrub the bathroom
You should scrub and clean your toilet, sink, bathtub, or shower. Make sure to eliminate any rust, mold, or mildew before you move out.
Clean out your closets
Clear out your clothes and accessories, and wipe down hanging rods and closet shelves. Also, vacuum closet floors and double-check that your personal belongings have been taken out.
Wash your windows
Wash your windows with a glass or window cleaner. Apply the solution onto the surfaces and wipe them down with a lint-free cloth to prevent streaks. Also, dust the locks, handles, and areas between the sliding tracks.
Clean and sanitize the fridge and freezer
Remove any remaining food from the fridge and freezer and clean them thoroughly. Get rid of any lingering food crumbs and wipe down the surfaces with a disinfectant.
The second-to-none move-out cleaning experts in Westminster are here for you
Cleaning is the last thing you want to brood on when moving out. There are more pressing needs, such as sorting out the paperwork and arranging transportation. Save your energy for critical tasks, and leave the cleaning to Blue Spruce Maids. We have an excellent house cleaning track record, and we're here to help you if you're moving out.
Relocating? Our moving cleaning services guarantee a seamless transition. Leave the cleaning to us and step into a spotless new chapter.
With us by your side, you'll be able to say goodbye to cleaning and dedicate all your time to decorating your new home in Highland or any other gorgeous area. Book Blue Spruce Maids now!