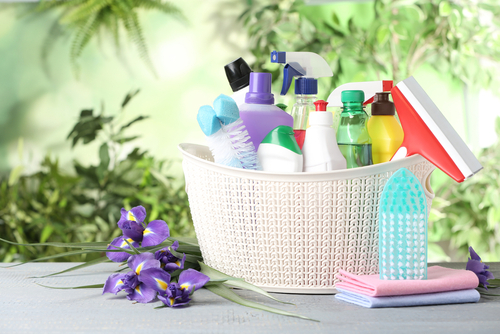 The season most commonly associated with cleaning is spring. This is the time for performing heavy-duty tasks, such as scrubbing your floors and deep cleaning the bathroom. However, that doesn't mean you should neglect housework during the summer. Heat, humidity, and rain can wreak havoc on your home, so it's important to keep it nice and fresh in spring clean.
To waltz through your summer chores, you can once again rely on your blue-ribbon Westminster house cleaning services. We have all the information you need, so read on!
How do you clean in the summer?
The research will yield many different summer house cleaning methods. For instance, some people who want to clean up before relocating tend to prioritize tackling dirt build-up on the oven and scrubbing the washer from top to bottom. Both of these tasks are too specific though, so here are a few general tips on facilitating your summer housework:
Keep foul smells away
Trash releases unpleasant odors all year long, but it can get really nasty when summer comes. This is because humidity and heat are a perfect breeding ground for bacteria which cause unpleasant smells to emanate from the bins. The problem can get even worse when moist summer air captures these smells and holds onto them for a while.
To prevent this problem, sprinkle some baking soda on the bottom of the trash can. It absorbs odors before they start circulating throughout your house.
Dust frequently
Sunshine fills your house with gorgeous, natural light, but it can also invite dust particles in. This can result in allergic reactions, preventing you from fully enjoying the summer. Therefore, try to dust often during this season to keep dust at bay.
Prevent mold and mildew
Humid summers make it easier for mold and mildew to thrive, especially in rooms that are already prone to moisture, such as the laundry room. To keep these harmful substances out of the area, leave your washer door open when you're not using it. This dries out the appliance and lowers humidity to safeguard against mold and mildew.
Employ essential oils
Summer is the time when you often have company. For this reason, you should keep the bathroom fresh. However, try to avoid using overpowering air fresheners.
Instead, use non-toxic essential oils. Make sure to go through the benefits of each type before selecting one for your house. For example, lemongrass is an excellent air purifier, whereas lavender promotes relaxation and rest.
Wash your windows
Take advantage of the favorable weather and clean your windows on a sunny morning. This is much better to do during the summer than in the middle of a freezing winter. If you haven't cleaned windows in a while, use a sponge and soapy water instead of a commercial window cleaner. You might need to do some scrubbing to get rid of dirt.
Perk up your patio furniture
Refresh your patio furniture for pleasant summer evenings with comprehensive cleaning. First, rinse the elements using your garden hose. Gently scrub them with a soft cloth and an adequate cleaning product, such as oil soap for wooden pieces. Don't use bleach, as it can damage your furniture and any surrounding paintings.
Enjoy the summer while the finest Westminster house cleaning services take care of the dirty work
While summer cleaning is important, it doesn't mean you have to be the one stuck with it. There are much better things to do, including taking a dip in your backyard pool or kayaking at Confluence Park.
To enjoy the charms of this lovely time of the year without worrying about housework, reach out to Blue Spruce Maids. Our trained cleaning professionals will give you a fantastic, in-depth service so that you can finally get some time off. Hire Blue Spruce Maids now!