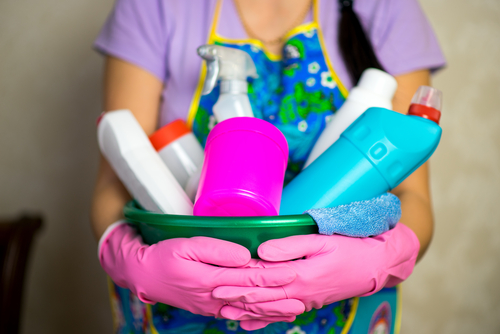 Having to clean your home after you have spent an entire day at work can be extremely overwhelming and frustrating. Why spoil an otherwise perfect evening when you can hire a professional cleaning crew with just a few mouse clicks? 
Thanks to their expertise and hands-on experience, you'll enjoy all the benefits of maid service. They will restore the sparkle to your beautiful Arvada home and be there to answer all your cleaning-related questions including how often you should have your home cleaned,  and more. Here is what you need to do before your cleaners arrive:
How to prepare for a house cleaning visit?
If you want your cleaner to be able to give their 100% and finish the job quickly, you shouldn't make it harder for them. Instead, try to be a good host and do whatever you can to provide them with a proper working environment. We guarantee that the cleaner will appreciate your effort and be happy to go the extra mile to meet your requirements.
Declutter your home
Your cleaner's job is to clean your home, not to pick up your dirty clothes from the floor, remove piles of paper that you left scattered all over your desk, or sort out your children's toys. If you want to get your money's worth, remember to go through the house before your cleaner arrives and remove anything that can obstruct their cleaning process. This way, they will be able to get down to work immediately instead of wasting their time on getting your things in order.
Secure everything they need
While the majority of cleaning companies provide their supplies and cleaning tools, some of them may require you to take care of this. In such cases, don't wait for the last moment, but make a plan and go shopping for the necessary products in advance.
Find a safe place for your pet
This is particularly important if your dog is aggressive and tends to be very unfriendly with strangers. Instead of making your cleaner feel uncomfortable and fear for their safety, you can ask your friend or a neighbor to take care of your pet until the cleaning is done. 
However, even if your pet is docile and gentle, you don't want them jumping around and getting in your cleaner's way. Finally, don't forget to confirm if your cleaning service provider uses pet-friendly cleaning solutions and ensure that your pets are safe.
Be honest about the scope of the job
If you want your cleaner to be done at the agreed time, you need to be honest about the amount of work needed when you call the company to get an estimate. You may feel embarrassed to admit that your home hasn't been cleaned for two months, but concealing this fact won't help anyone. Instead, be candid and make sure that your cleaners have all the facts.
Take care of your valuables
In case you have some valuables like silver jewelry and small electronics lying around, it's best to put them in a safe place. You won't have to worry about your belongings getting damaged during the cleaning process and avoid unpleasant misunderstandings with your cleaner. This will also make their job easier and give them peace of mind.
Looking for a reliable maid service in Arvada and the nearby area? It's booking time!
Are you tired of postponing your trip to the breathtaking Eldorado Canyon State Park week after week because of all those daunting cleaning chores that you need to deal with? Blue Spruce is here to help! Our seasoned team of professionals will do everything in their power to make your home look spick and span again.
Our unmatched cleaning services are just a few clicks away. With Blue Spruce, you will get high-quality residential cleaning services and won't have to worry about any hidden costs. We value transparency, integrity, and professionalism above anything else.