When it comes to enjoying the beautiful outdoors in Denver, Colorado, having a well-maintained and clean deck is essential. Your deck is a valuable extension of your living space, providing a place for relaxation, entertainment, and family gatherings. Over time, decks can accumulate dirt, grime, mold, and other unsightly stains that can not only diminish their visual appeal but also compromise their longevity and safety. This is where BlueSpruceMaids shines, offering professional and meticulous deck cleaning services in Denver, CO. With their expertise in cleaning wooden, Trex, and pool deck cleaning, they can transform your outdoor space into a pristine haven for you and your loved ones.
The Importance of
Cleaning a Deck in Denver, CO
A well-maintained deck enhances the beauty and functionality of your outdoor space. BlueSpruceMaids understands this and offers comprehensive cleaning deck services that go beyond aesthetics.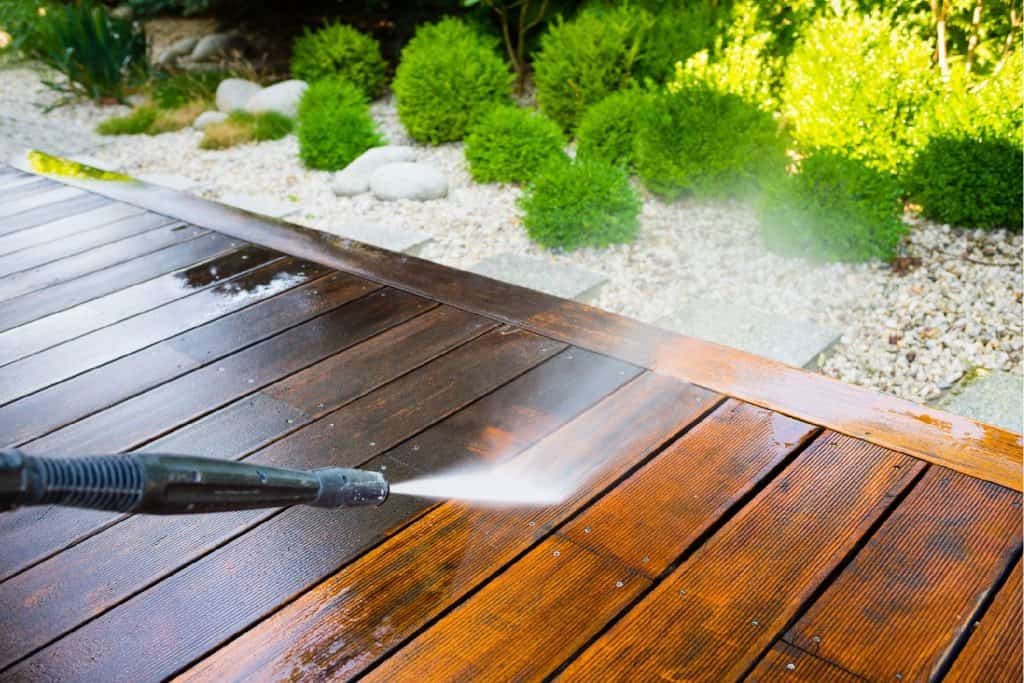 Your deck is not just an extension of your home; it's a place for relaxation, gatherings, and enjoyment. BlueSpruceMaids recognizes the importance of keeping your deck in top-notch condition, ensuring it's a safe and inviting space for you, your family, and your guests.
Their deck cleaning services are designed to remove dirt, grime, algae, and other contaminants that can accumulate over time, not only restoring its visual appeal but also prolonging its lifespan. With their attention to detail and commitment to quality, BlueSpruceMaids transforms your deck into a pristine oasis where you can create lasting memories. Trust them to make your outdoor space a true asset to your home.
Deck Cleaning Service Near Me in Denver, CO
BlueSpruceMaids' central location in Denver, CO, ensures that they are your nearby experts in deck cleaning services near me, always ready to provide the cleaning services your outdoor space deserves.
Proximity matters when it comes to maintaining your outdoor spaces, and BlueSpruceMaids takes pride in being conveniently accessible for all your deck cleaning needs. With their local presence, they can quickly transform your deck, ensuring it remains a welcoming haven for relaxation and enjoyment, right at your doorstep. Trust BlueSpruceMaids to keep your outdoor space in pristine condition, so you can make the most of it year-round.
Our condo cleaning services are designed to keep your living space in pristine condition, with a team of dedicated professionals who specialize in maintaining the cleanliness and comfort of condominiums.
Convenient Scheduling:
Deck Cleaning Services in Denver, CO
Denver residents lead active lives, and BlueSpruceMaids respects your time. Their convenient scheduling options make it easy for you to arrange deck cleaning service that fit your busy schedule, whether you live in the city or the suburbs.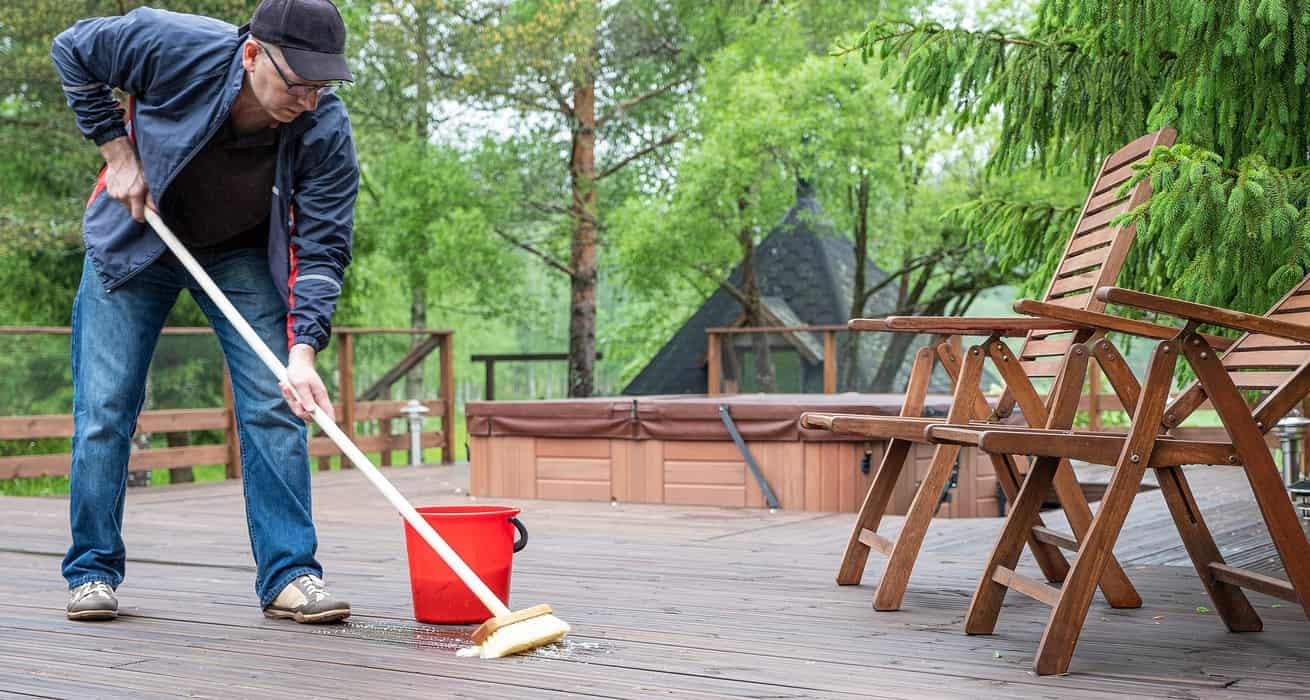 Understanding that time is a valuable commodity, BlueSpruceMaids strives to accommodate your needs and preferences. They offer flexible appointment slots, ensuring that your deck cleaning can be seamlessly integrated into your daily routine. Whether you're a city dweller with a bustling lifestyle or enjoying the more relaxed pace of suburban living, BlueSpruceMaids is committed to delivering timely and efficient service that enhances the appeal and functionality of your outdoor space. 
Say goodbye to the hassle of maintaining your deck and hello to the convenience of BlueSpruceMaids' scheduling options.
The Art of
Deck Cleaning Solution in Denver, CO
BlueSpruceMaids employs a meticulous approach to deck cleaning solutions, ensuring that your outdoor space is restored to its original beauty. They understand that your deck is not just an asset to your property; it's a place where cherished moments are created.
Their skilled technicians take the time to assess the condition of your deck, identifying areas that require special attention. With state-of-the-art equipment and industry-leading techniques, they work diligently to remove dirt, mold, mildew, and other contaminants that can compromise the integrity of your deck.
With BlueSpruceMaids, you can trust that your outdoor space will be transformed into a pristine and inviting environment. Their commitment to detail ensures that every nook and cranny is cleaned, leaving your deck looking refreshed and revitalized, ready for you to enjoy all year round.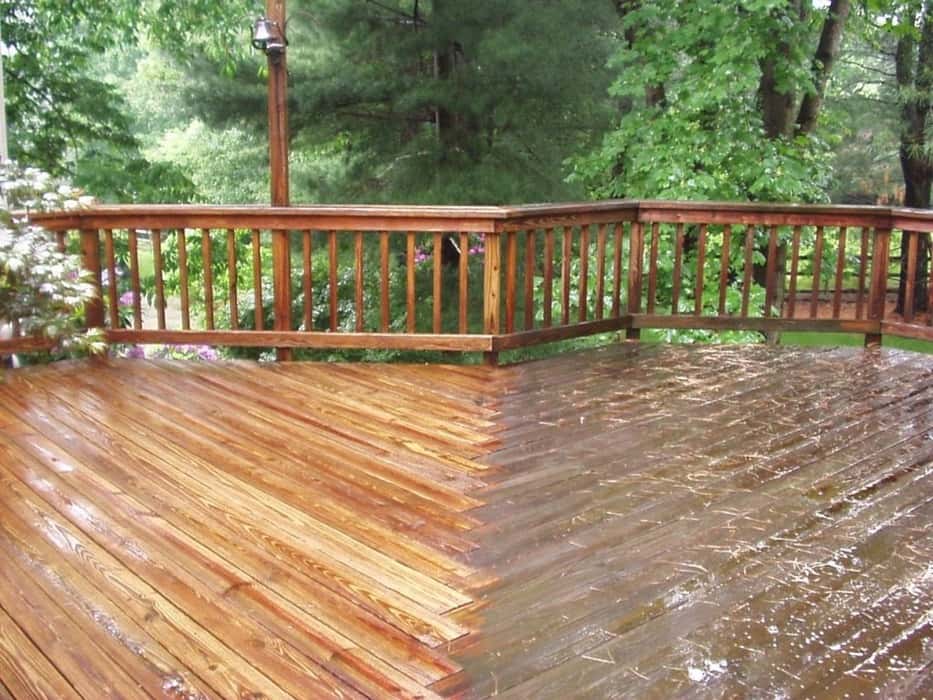 Deck Cleaning Solutions for Different Deck Types in Denver, CO
BlueSpruceMaids recognizes that best deck cleaning comes in various materials, and each requires specific cleaning techniques. They excel in cleaning wood, Trex, and composite decks, ensuring that your outdoor space is treated with the utmost care.
Different deck materials demand specialized care to maintain their beauty and longevity. BlueSpruceMaids takes pride in their expertise and tailored approach, understanding the unique characteristics of each material. Whether you have a wood, Trex, or composite deck, their skilled technicians have the knowledge and tools to deliver the appropriate cleaning method that ensures outstanding results without compromising the quality of your decking.
With BlueSpruceMaids, you can have confidence that your deck will receive the precise care it deserves, preserving its aesthetics and integrity for years to come. Enjoy your outdoor space to the fullest, knowing that it's in the hands of professionals who are dedicated to excellence in deck cleaning.
Wood Deck Cleaning in Denver, CO
Cleaning a wood deck requires gentle cleaning to prevent damage to the wood's surface. BlueSpruceMaids has the expertise to clean wood decks thoroughly without harming the natural beauty of the wood.
Cleaning wood deck are prized for their rustic charm and natural appeal, and maintaining their integrity is crucial. BlueSpruceMaids understands the unique needs of cleaning deck wood and employs specialized techniques and eco-friendly cleaning products that effectively remove grime and contaminants while preserving the wood's original luster.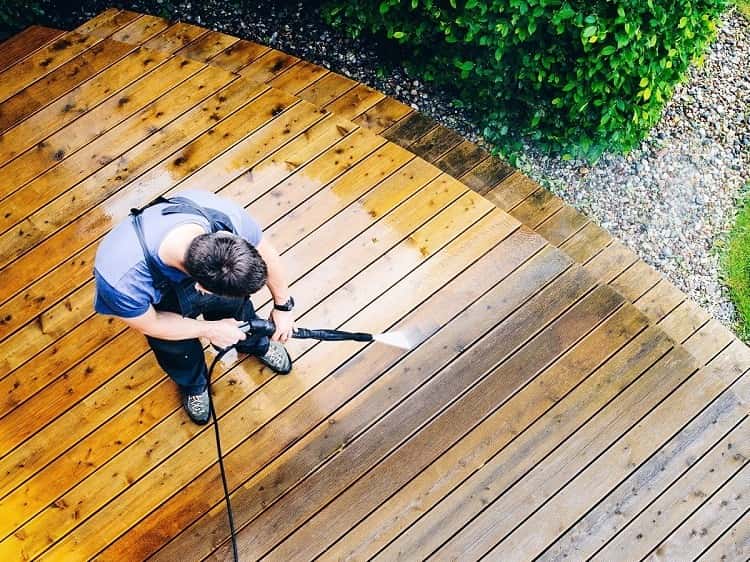 With their careful approach, you can trust BlueSpruceMaids to revitalize your wooden deck cleaning, enhancing its aesthetics and durability. Enjoy the warmth and character of your wooden outdoor space with the confidence that comes from knowing it's in the hands of professionals who prioritize its well-being.
Cleaning a Trex Deck in Denver, CO
Cleaning trex decks are known for their durability and low maintenance. However, they too can accumulate dirt and stains. BlueSpruceMaids specializes in cleaning Trex decks, restoring their appearance and longevity.
Trex decks are celebrated for their resilience, but even the toughest materials benefit from proper care. BlueSpruceMaids recognizes the need for specialized cleaning techniques that address the unique characteristics of Trex decking materials. Their expertise allows them to effectively remove dirt, stains, and contaminants while safeguarding the integrity of your Trex deck.
With BlueSpruceMaids, you can enjoy the full potential of your Trex deck, knowing that it will not only look great but also stand the test of time. Trust their knowledge and skill to keep your Trex deck in pristine condition, so you can continue to enjoy its beauty and functionality for years to come.
Our post renovation cleaning service is perfect for homeowners and contractors alike, offering a thorough and meticulous cleaning to make your space move-in or showcase-ready after construction or remodeling.
Cleaning Composite Deck in Denver, CO
Composite deck cleaning is a popular choice for its longevity and low maintenance. BlueSpruceMaids' composite deck cleaning service ensures that your deck remains clean and beautiful, enhancing its lifespan.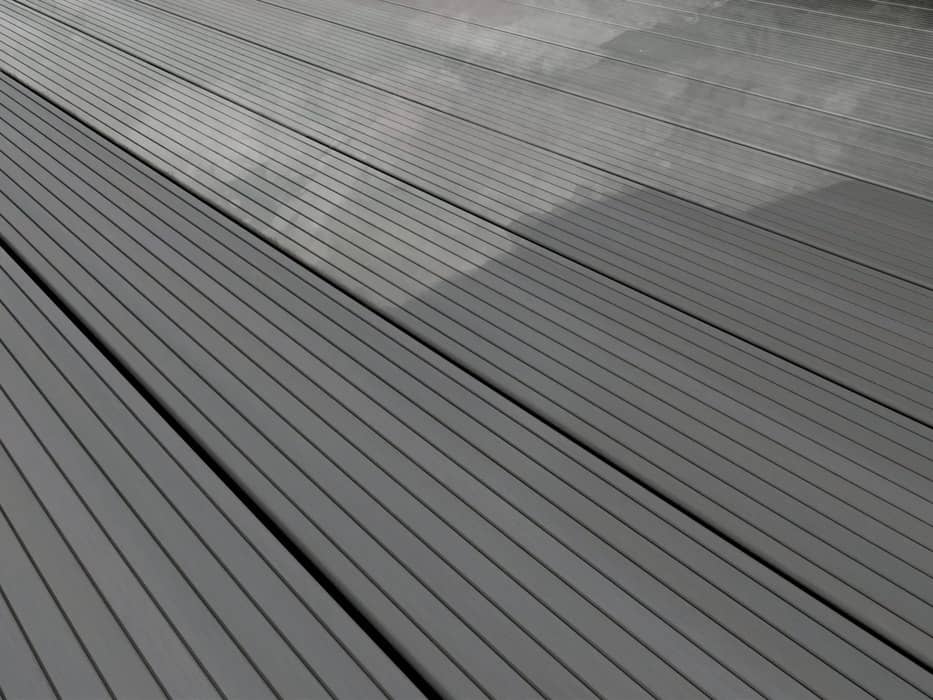 Composite decking materials are prized for their resistance to rot, mold, and insects, but like any outdoor surface, they can accumulate dirt and grime over time. BlueSpruceMaids recognizes the importance of proper maintenance to ensure your cleaning of a composite deck continues to look its best.
Their expert team uses specialized cleaning techniques and eco-friendly products designed to safely remove contaminants without compromising the integrity of the composite material. With BlueSpruceMaids' composite deck cleaning service, you can trust that your outdoor space will stay inviting and well-maintained, allowing you to enjoy its benefits for years to come.
You might also want to explore the offerings we provide:
Thanks, and Good Luck to You 🌊