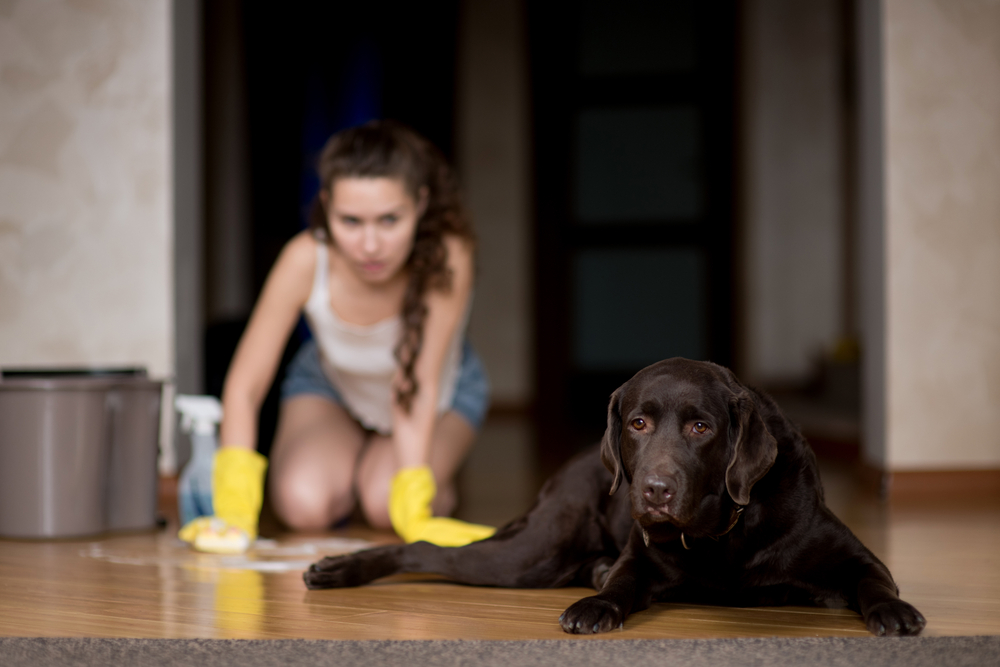 Even with just adults around, your home can get quite dirty. But the mess can get even worse if you have pets and babies. They leave all sorts of stains on the couch, tabletops, bathroom, and shelves. But the bulk of the mess they make tends to end up on the floors, leaving your hardwood and carpets in disarray.
You might think there's no way to keep your floors clean with pets and your young ones, but that's not the case. There are many things you can do to minimize the mess and have a neat house at all times. Your reliable Superior maid service is about to tell you how, so read on!
How do you keep hardwood floors clean with dogs?
It can be extremely challenging to keep your home clean with dogs and other pets. You constantly need to remove hair from the couch and address its unpleasant smells.
Maintaining the cleanliness of your hardwood floors is even trickier. Fortunately, you can stay on top of the mess with the following tips:
Trim your dog's hair with a clipper.
Eliminate loose fur with a brush and give your pet frequent baths.
Pick up hair with a moist mop. However, avoid using too much water as it can damage your hardwood.
Buy a first-rate microfiber duster. It's just as effective as a mop and is easier to use.
How do you keep carpets clean with dogs?
The most important thing when it comes to keeping your carpets clean with dogs is to train them not to chew or lie on your carpets. Buy them a bed to ensure they're comfortable without ruining your carpets.
Here are a few more helpful tips:
Clean their paws as soon as they return from a walk.
Use a pet-friendly cleaning product.
Vacuum carpets a couple of times per week.
Get rid of dog odors with baking soda.
Trim your pet's nails to prevent scratched carpets.
How do you keep your house clean with a dog and a baby?
We'll now address the key question – how do you maintain a clean home with dogs and babies? There are several things you can do:
Perform crucial tasks first
In a home with pets and kids, you need to perform multiple chores, and you can't tackle all of them simultaneously. So instead of panicking, establish your priorities. Write down the most important jobs you can do at a time and leave the rest for later.
Clean up accidents immediately
Cleaning up the mess made by your dogs and babies right away can save you a lot of time and effort. Therefore, keep all the necessary products and supplies near you and take action as soon as you notice an accident.
Simplify your cleaning
Instead of toiling away in your home, find a smarter way to clean up by investing in appropriate products and tools. For example, you can buy a vacuum with strong suction to quickly remove dog fur. Additionally, you can brew potent cleaning agents with kitchen ingredients, such as vinegar, bleach, and baking soda.
Where can I find a trustworthy Superior maid service? Just dial our number!
With so many work duties and other responsibilities, the last thing you need is to clean up after your babies and dogs. However, there's no way to avoid this. It's vital to ensure a healthy environment for your babies and furry friends, and luckily, you're not alone!
Call Blue Spruce Maids, and our industrious cleaners will give your home an in-depth service. They'll scour your floors, walls, kitchen cabinets, and other areas so that you're no longer stuck with these tedious jobs. Instead, you can take the entire family to Founders Park and enjoy a sunny day outside.
Reach out to Blue Spruce Maids now – you won't be disappointed!