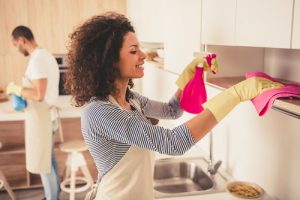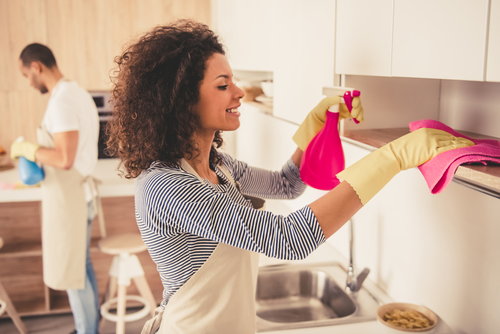 Although cleaning is usually a pain in the neck, you simply can't avoid it if you want to live in a pristine environment and have fresh air in your home. Since it is a multi-step process, it can be hard to keep track of all the areas and items you need to clean, as well as how to do it. Another challenge is knowing where to start so as to ensure efficiency from the very beginning. 
While this might seem a bit overwhelming, once you understand that cleaning your home in-depth can help prevent the spread of COVID-19, you'll feel much more motivated to roll up your sleeves. Besides, your dependable house cleaning in Arvada, CO will be guiding you every step of the way and making the task much easier. Read on!
How to clean your house from top to bottom?
First, you can use several cleaning methods to get rid of initial layers of dust and debris. Not only will this prevent the mess from getting out of hand, but it will also set the stage for disinfection, which is especially important during the COVID-19 pandemic. Here are the most common cleaning tasks you should do:
Dusting 
Use microfiber cloths to dust fans, light fixtures, shelves and other items. To remove cobwebs, use a broom or a dampened cloth tied to an end of a mop. For slatted blinds, close them one way with the string and dust, and then close them the other way to get the other side.
Be sure to dust your house to the best of your abilities. This is because the absence of dust will make disinfecting your home from viruses such as the coronavirus much more effective, since there won't be any particles blocking your disinfectant. 
Vacuuming 
Before you start, check if your bag is already full and use the appropriate setting and attachment. Go through all your floors and upholstered furniture for a thorough job.
Mopping 
Start at the farthest corner of the room and work your way toward the entrance. Rinse your mop after completing each 4 x 4 area. 
Now you can move on to some complementary cleaning. Here's what it comprises: 
Kitchen cleaning 
Wipe down countertops, cabinets and faces of appliances.

Clean the inside of the microwave.

Soak stove drip pans and knobs in the sink. 

Sweep inside and around the sink.
Bedroom cleaning 
After decluttering, dusting and vacuuming the bedroom, there's not much left to do in it. What you can do is tidy your closets, make the bed, and return any furniture that you put up to vacuum earlier.
Bathroom cleaning 
Scrub the grout – Use a stiff brush to apply a mixture of ¾ cup of chlorine bleach and 1 gallon of water. Let it sit for a few minutes, scrub and rinse. 

Disinfect the sink – Spray an

EPA-approved bathroom disinfectant

and wipe with a cloth or sponge. Do the same with faucet handles. 

Clean the toilet: Pour a toilet bowl cleaner in the toilet bowl and let it rest for up to five minutes before scrubbing with your brush. As for the toilet seat and handle, just wipe them with disinfectant wipes. 

Scrub the tub or shower – Spray the area with an all-purpose bathroom cleaner. Let it sit for several minutes and scrub with abrasive scrubbing pads before rinsing.
What is the best order to clean a house?
Start with areas that require the cleaning agent to rest for a period of time. For instance, putting a toilet cleaner in a toilet bowl or starting the dishwasher are a good way to begin.
Additionally, always work from the top down. This simply means that you should start with the higher areas and work your way down (the same goes for upstairs and downstairs). 
Also, don't forget to declutter first and then clean. This will ensure that nothing can get in the way. 
Finally, dusting should always precede cleaning floors. This is because some dust is bound to end up on the floor as you dust, and you don't want to have to vacuum again. 
First-class house cleaning in Arvada, CO will surpass your expectations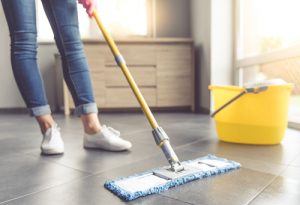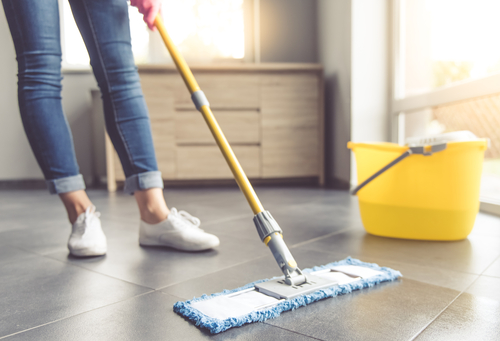 Getting a spotlessly clean home is a task that requires capable hands, and no one is more capable than Blue Spruce Maids. Book our accomplished cleaners now and you'll see that we provide the finest service available. 
You'll no longer be stuck at home with mind-numbing housework and unable to admire the marine life of Downtown Aquarium. Hire Blue Spruce Maids now and watch your cleaning troubles go away.