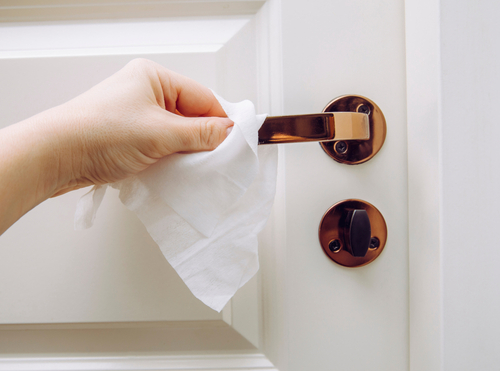 Viruses of various types pose a major threat to your health. Some of them, such as COVID-19, can spread incredibly fast and enter your home in a number of ways. However, that doesn't mean you are left defenseless if that happens. 
On the contrary, there are many methods you can apply to disinfect your home from viruses, and the unmatched cleaning services around Arvada will guide you through each one. Keep reading to find out just how to make sure that viruses cannot harm you in your own house. 
In addition, we can show you the proper way to thoroughly clean your house, how to motivate yourself to clean, as well as quick tips to make your home smell fresh and lovely. Just stick with us, and you can't go wrong. 
How do you disinfect your house from viruses? 
When you're looking to deal with viruses indoors, you need to pay equal attention to every single room and high-touch surface. Here's how to do it: 
Clean the surface 
To prepare any surface for disinfection, you need to clean it first. Remove any contaminants, dust, or debris with soapy water and a paper towel. 
Make your disinfectant 
In order to make your disinfecting solution, combine 5 tablespoons of bleach with 1 gallon of water, or 4 teaspoons of bleach and 1 quart of water. Pour the mixture into a spray bottle and shake it vigorously before using it. 
Apply the disinfectant 
Apart from the areas that you usually handle while disinfecting such as countertops, kitchen cabinets, or sinks, you want to pay special attention to high-touch surfaces. These can get packed with viruses and include the following: 
Doorknobs

Tables

Faucets and faucet knobs

Toilets (seat and handle)

Light switches 
To disinfect them, spray your bleach solution on the surfaces, and let them air dry. 
Disinfect your clothes 
Clothes shouldn't be too much of a problem. What you need to do to disinfect them is put them in the washing machine and wash them at the warmest setting the fabric can handle. Dry them at a slightly higher temperature than usual and you're all done. 
How long do flu germs live on bedding? 
Flu germs tend to live shorter on surfaces such as bedding than on hard surfaces. Specifically, the influenza virus can survive on bedding for only 8 to 12 hours. 
Still, you should definitely take precautions to prevent flu germs from spreading from your bedding. Do this by putting it in your washing machine and running a load with bleach. Also, don't forget to use the warmest setting possible, since temperatures over 140 degrees Fahrenheit eliminate viruses. 
How often should you disinfect your house? 
The frequency of disinfecting your home varies. It mostly depends on how often each surface gets in contact with people. But in general, here's how often you should do it: 
Every day: high touch surfaces we previously mentioned. 

Every other day: less-used household surfaces. 

After each use: countertops and cutting boards

If anyone in your home is sick – disinfect every surface after they touch it. 

Disinfect your home every time a visitor enters it. 
Rely on the top cleaning services around Arvada to always come through for you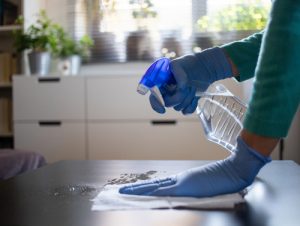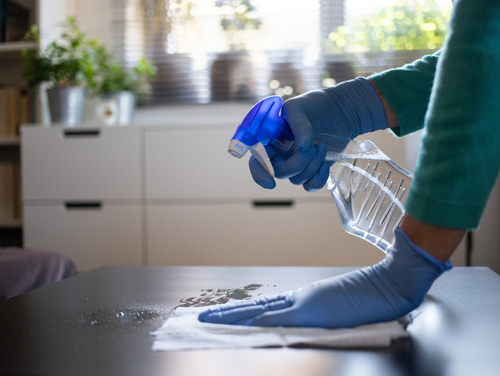 You can give Blue Spruce Maids a call any time you want us to make your home fresh and spotless. Our team of dedicated cleaners never fails to rise to the challenge, no matter how daunting a task is ahead. Have full confidence in our maids' skillset and they won't let you down. 
While Lakeside Amusement Park is off-limits for now, we'll make sure you have plenty of time to take your kids out for some thrills once the COVID-19 pandemic is over. 
Book Blue Spruce Maids now!