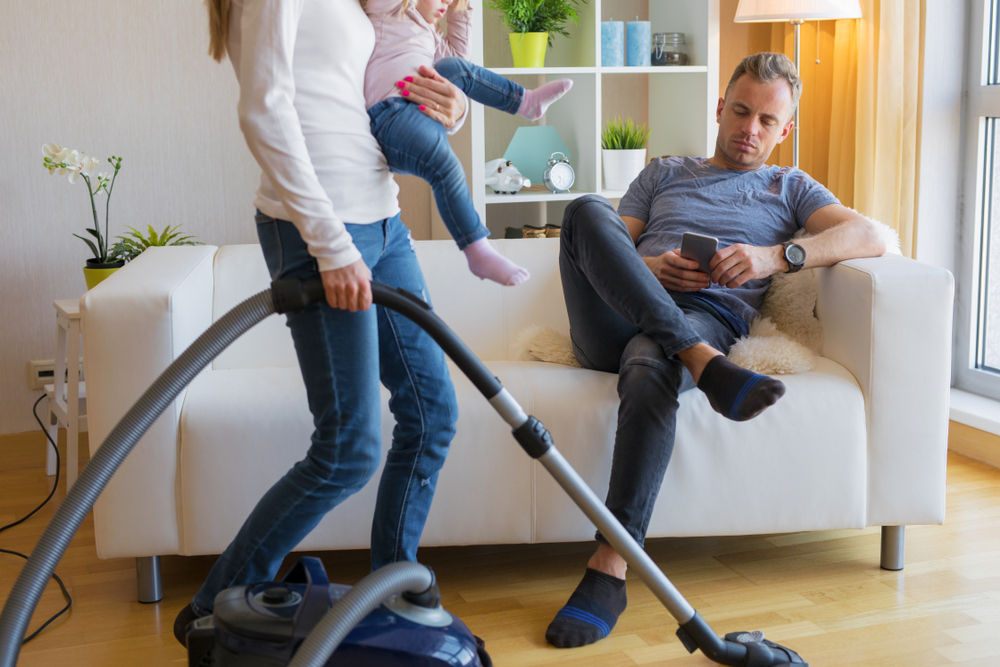 Having a spotless home without Broomfield, CO's top-rated cleaning services is hard. One of the factors that make the process challenging is the fact that you often do it alone. Your spouse is either unwilling to help or they claim they don't have the time. Fortunately, we're about to help you change this.
Keep reading, and you'll learn the four tips on how to get your partner to help you clean your home.
How do I talk to my partner about cleaning?
You could use a helping hand with various chores, such as decluttering and removing stains from your fridge or making sure your kids sleep in a healthy, dust-free room. Your spouse might be eager to pitch in if you follow these tips:
Approach expectations and priorities appropriately
The first thing you want to do is to lay down the ground housekeeping rules. Tell your partner that you don't like seeing dusty shelves, a dirty toilet, or a messy bed. However, you can't do all the work yourself, so you need them to carry their own weight. This way, your spouse will be clear about your expectations and more likely to honor them.
Define your meaning of "clean"
Your definition of "clean" might be very different from that of your partner. Therefore, tell them what you really mean by this term, so they can understand where you're coming from. Also, discuss other terms, such as "dirty" and "messy." Find the difference between Cleaning & Disinfecting.
Focusing on what's intolerable can remove any discrepancies and complaints about the conditions of your kitchen or bathroom.
Talk about task division
Your best bet is to divide your cleaning tasks to ensure your partner knows their duties. List the chores you'd rather avoid and ask your spouse to do the same.
After comparing the lists, you may find out your spouse loves doing the chores you hate and vice versa. You can use this method to complete each other and leave no part of the house unattended.
Should both of you detest the same chores, you can do them together or take turns.
Don't resort to nagging
Reciprocity applies to all discussions, including those about home maintenance. Yelling or nagging at your spouse to scrub the toilet or do the dishes may be counterproductive. Their response might be to throw a tantrum and not do the chore anyway. As a result, nothing gets done, and you end up being angry with each other.
By contrast, when you see your spouse cleaning something, picking up clothes from the floor, or doing other chores, acknowledge their efforts. Compliments and some reinforcement go a long way in fostering a loving relationship and removing toxicity. If you appreciate your partner's work, they're bound to keep it up.
Elevate your living standards with our professional housekeeping services. Our dedicated team provides top-notch housekeeping service, ensuring a tidy, organized home. Experience convenience and comfort with us. Your satisfaction is our priority!
Additionally, avoid being a perfectionist when discussing your expectations and monitoring your partner. They may miss a spot or two when scrubbing the oven safely or removing tough grease from the microwave but don't yell at them. Even mediocre housekeeping is better than no housekeeping.
Want to save you and your partner the hassle? Give your go-to Broomfield, CO, cleaning services a call!
You're rarely excited about cleaning your Broomfield home. There are much better ways to spend your free time, like going to a spa at the Paul Derda Recreation Center. You can take your partner with you and leave the work to Blue Spruce Maids.
We have a proven track record of scouring homes of all sizes from top to bottom. Our professionals use cutting-edge vacuum cleaners and other advanced tools to deliver a thorough service each and every time. Contact us today!