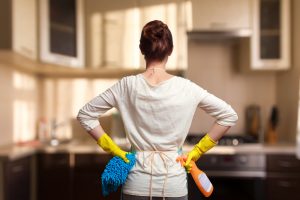 There are many ways to clean your home properly. The most effective method is to outsource the job to Broomfield, CO, maid services because professionals know the ins and outs of the process.
But what exactly are those ins and outs? Knowing some of them can come in handy when scrubbing your property on your own, and we're about to list them. Keep reading for the five basic dos & don'ts of doing housework.
What rules should be kept in mind when cleaning your home?
You need a safe yet effective routine when doing any chore, such as making the interior and exterior of your fridge spotless or scouring your children's room to perfection. Here are a few tips to help you develop a robust strategy:
#1 Do clean the bedroom and bathroom thoroughly
Keeping your bedroom clean is essential for staying healthy. You spend at least 6-8 hours in the area, giving any dust mites and other allergens plenty of time to wreak havoc on your breathing. Therefore, scour your bedroom at least once a week.
The same goes for your bathroom. Failure to keep it clean can make viruses and bacteria circulate throughout your home. Fortunately, it only takes a few minutes per day to maintain the place and minimize the spread:
Wipe down your walls with an eco-friendly product after taking a shower.
Remove items from the countertop and get rid of empty containers.
Wipe around your sink to eliminate any water rings, makeup, and loose hair.
Mope the floor and remove unnecessary towels or clothes.
#2 Don't waste time due to improper supply management
The last thing you want is to spend an entire afternoon cleaning because you keep making trips to your garage to find supplies. To avoid this, prepare the equipment before you start. Keep the following items on hand:
Vacuum cleaner
Microfiber cloth
Disinfectant spray
Detergent
Sponge
Dustpan
Mop
#3 Do clean the mess immediately
Addressing messes quickly makes it easier to clean your house. For instance, try cleaning a couch stain as soon as it happens. Letting the upholstery absorb the dirt can turn the job into a nightmare later on.
#4 Don't forget to declutter
Decluttering a room automatically reduces the time it takes to clean it. To do so effectively, make sure each item has a designated spot. If it's out of place, return it to avoid cluttering your house.
#5 Do vacuum regularly
Vacuuming is an integral part of any cleaning, so you should do it regularly. Pay attention to your carpets because they can get dirty quite fast. You may need special attachments and HEPA filters to limit the number of airborne pollutants.
Additionally, hard-to-reach spots can also attract piles of dirt. This includes the area under your beds, bookcases, and sinks. You may need to use a crevice attachment to dust these places.
Keeping your home clean and tidy can be overwhelming, but with house cleaning checklists, you can easily tackle each task and stay on track. These lists help you break down cleaning into manageable steps, ensuring that no corner is left untouched. Use them to create a routine and maintain a spotless home.
How do you keep your house clean when you're busy? You contact Broomfield's leading maid services!
Learning about cleaning is one thing, but applying the knowledge is a whole different animal. You need years of experience to scrub each corner of your Broomfield house correctly. Plus, you may need a variety of tools that might not be available to an average homeowner.
Contact Blue Spruce Maids to avoid worrying about these issues. Our trained specialists can do all the housework, so you and your spouse don't have to get your hands dirty. Instead, indulge yourself in a shopping spree at Flatiron Crossing while we take care of the work.
Reach out to us today for an excellent cleaning service!