People are always looking for new ways to clean their house faster and more efficiently. The reason for that is simple – they want to be free from chores so that you can spend more time with their friends and family. However, getting rid of stains on your bathroom floor is sometimes so toilsome and time-consuming that it takes away all your energy.
Fortunately, the job is about to get a whole lot easier. The renowned house cleaning experts in Denver, CO are here to present you with a simple, efficient method for cleaning your bathroom tiles. Once you're done reading the guide, you'll know just how to make the bathroom shine without being exhausted at the end of it all.
What is the easiest way to clean a bathroom floor?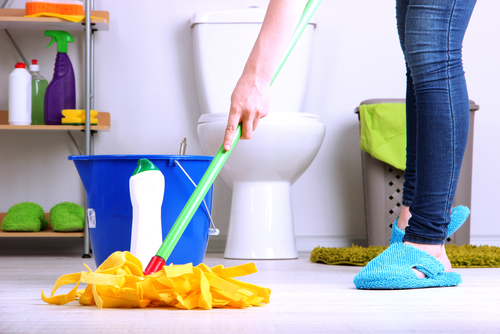 Cleaning the floor is a major part of making your bathroom shine and killing the germs inside. In addition to restoring whiteness to your kitchen sink and getting rid of grime in the shower, having a clean bathroom floor greatly boosts the appearance of the entire place. Here's how to do it thoroughly:
Clear the floor
Remove the trash can, toys, and stools from the floor. This will provide a clear surface to work with. If there are any mats, consider washing them or giving them a good scrub. Rinse them thoroughly and hang them to dry.
Get rid of dust
Use a vacuum or a broom to remove dust, dirt, and make it easier for you to scrub the floor afterward. Just make sure that the floor is dry before vacuuming to prevent damage to your machine.
Clean the floor
Pour hot water into a bucket and add your favorite cleaning solution. There are many commercial products that are effective at removing grease and grime from your surfaces. You can add a cup of white vinegar too.
Clean the floor with a mop or your push broom if the place is excessively dirty. If you're trying to clean a smaller area, use a smaller brush.
Rinse and dry
Rinse your floor with clean water. Direct the water down your drain using a squeegee or take a damp mop to keep water at a minimum. Spin mops are also effective at removing excess water.
Once done, dry the floor to prevent the development of mold and mildew. Use a cloth or a clean towel and pay attention to grout lines and corners since they are more susceptible to mold.
How do I get stains off my bathroom floor?
Stains on the bathroom floor can be quite stubborn to clean, especially if you leave them untreated for some time. However, there's a great way to deal with them – all you need is some baking soda. Its chemical properties are suitable for removing any kind of soap scum or residue from the bathroom floor. Here's how to use it:
Spread your baking soda on the bathroom floor.
Scrub the area with a damp sponge and let your baking soda take effect.
Rinse with clean water and repeat the process if the stains persist.
Dry the floor with a clean towel to prevent water minerals from leaving fresh spots.
Reach out to top-rated house cleaning in Denver, CO for a thoroughly clean home
As a reputable cleaning company, Blue Spruce Maids can clean your house both one-off and on a regular basis. Simply decide on your preferences, and give us a  call to book our comprehensive services. All our technicians are bonded, insured, and trained to meet your cleaning demands.
Once we take over, you can sit back and relish in your free time at the Downtown Aquarium, admiring the spectacular marine life.
Hire Blue Spruce Maids and put your feet up!