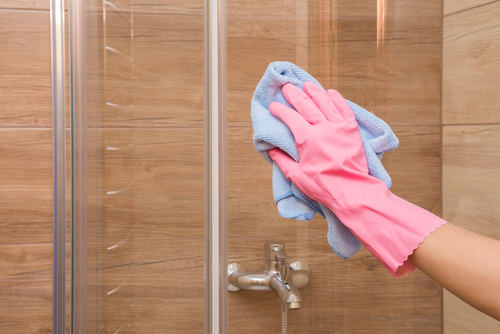 Your bathroom is one of the most frequently used areas in the house, which is why it's highly susceptible to grime. While you may try to keep the bathroom dirt-free and as tidy as possible by cleaning your white sink or scrubbing stains off the floor, you should also pay attention to your shower. If not, it can get pretty dirty, and it may be time to bring in a committed maid service to your Denver, CO home.
But if you decide to take on shower grime by yourself, you can't start the job without preparation. You're about to find out what you need to restore your shower to its former condition and make it shine once again. We'll cover the best products to use and guide you every step of the way, so keep reading!
What cleans showers the best?
The shower too is part of your bathroom highly susceptible to germs. That's why it's best to use a cleaner with potent disinfecting properties. To that end, you can go for an all-purpose solution with equal parts dish soap and white vinegar.
To make the combo even more potent, feel free to add a couple of drops of antimicrobial essential oils. Another powerful mixture consists of three quarts of hot water, ½ cup of ammonia, and ½ cup of distilled white vinegar.
Here are some more combinations you can try:
Baking soda and dish soap
When it comes to abrasive spot treatment, one of the best options is to mix equal parts dish soap and baking soda. This forms a paste you can apply to grimy patches.
Baking soda and boiling water for the drain
As for the drain, avoid harsh cleaners. Pour three cups of boiling water down the drain and follow it up with a cup of baking soda. After about an hour, add three cups of white vinegar to loosen any deposits.
Metal items
It's time to tackle the faucets, rods, and other metal components. Do this by applying a solution consisting of one tablespoon dish soap, a splash of apple cider vinegar, and ¼ cup of baking soda.
How do I get the grime off my shower?
There's a variety of options for removing grime from your shower, but we'll stick to an ammonia-based cleaner due to its tremendous potency. Here's how to use your mixture:
Ensure proper ventilation
Before you do any work, turn on the fan, and open the door and any windows to ventilate ammonia fumes. Also, use a bucket of water or the shower head to get the walls wet and prepare the area.
Make the solution
Create a mixture containing three quarts of hot water, ½ cup of ammonia, and ½ cup of distilled white vinegar. Pour the solution into a spray bottle.
Apply the cleaner
Spray the mixture on the shower floor and walls and let the solution rest for about 10 minutes. It will start breaking down the grime and soap scum, reducing the amount of scrubbing you need to do.
Scrub and rinse
Use a plastic mesh scrubber or sponge to clean the floor and walls. Make sure not to use hard-bristle brushes or metal scrubbers since they can scratch the ceramic tile. Lastly, rinse the walls with clean water from top to bottom.
Remove water remains
Use an old towel or squeegee to remove water from all surfaces. Otherwise, water spots may persist.
Book the industry-leading maid service in Denver, CO for spectacular cleaning
Cleaning the shower is an all-important chore. However, that doesn't mean you should be the one stuck with it. All you need to do is pick up the phone, call Blue Spruce Maids, and housework will be out of your hands. Our tireless cleaning experts will deliver an impressive service, just as they have done countless times in the past.
While top-notch professionals are handling your bathroom, why not check out the captivating species at the Denver Zoo? With cleaning out of the way, it's time to seize the day!
Hire Blue Spruce Maids and save yourself a lot of hassle.